At Sidelined USA we help permanently-sidelined student-athletes find new fulfillment and adapt to their new reality in a meaningful way. Finding an alternate way to stay involved with your sport, or with sports in general, can provide an outlet to stay connected to the things that matter most to you. Being a part of a team, experiencing the rush of competition, the thrill of victory, the adrenaline rushes — can all be accessible to you once again.
Maybe you pursue a new sport that you are medically cleared to play or maybe you get involved with sports through exploring a new skill or career in sports. Sports Photography, Sports Journalism, Coaching, Sports P.A., Athletic Training are just a few ideas. We encourage you to explore the options and try something out!
The Next Chapter Podcast
The Next Chapter is a new podcast presented by Sidelined USA. In the Next Chapter Podcast, we are designating each episode to learning about a new career in sports by interviewing someone with a specific career in the athletic world. We explore not only what that career is and what it entails, but also steps you can take toward pursuing that career should you be interested.
Below you'll find some information on various careers in sports. We'll keep adding to the list, so check back soon for more ideas.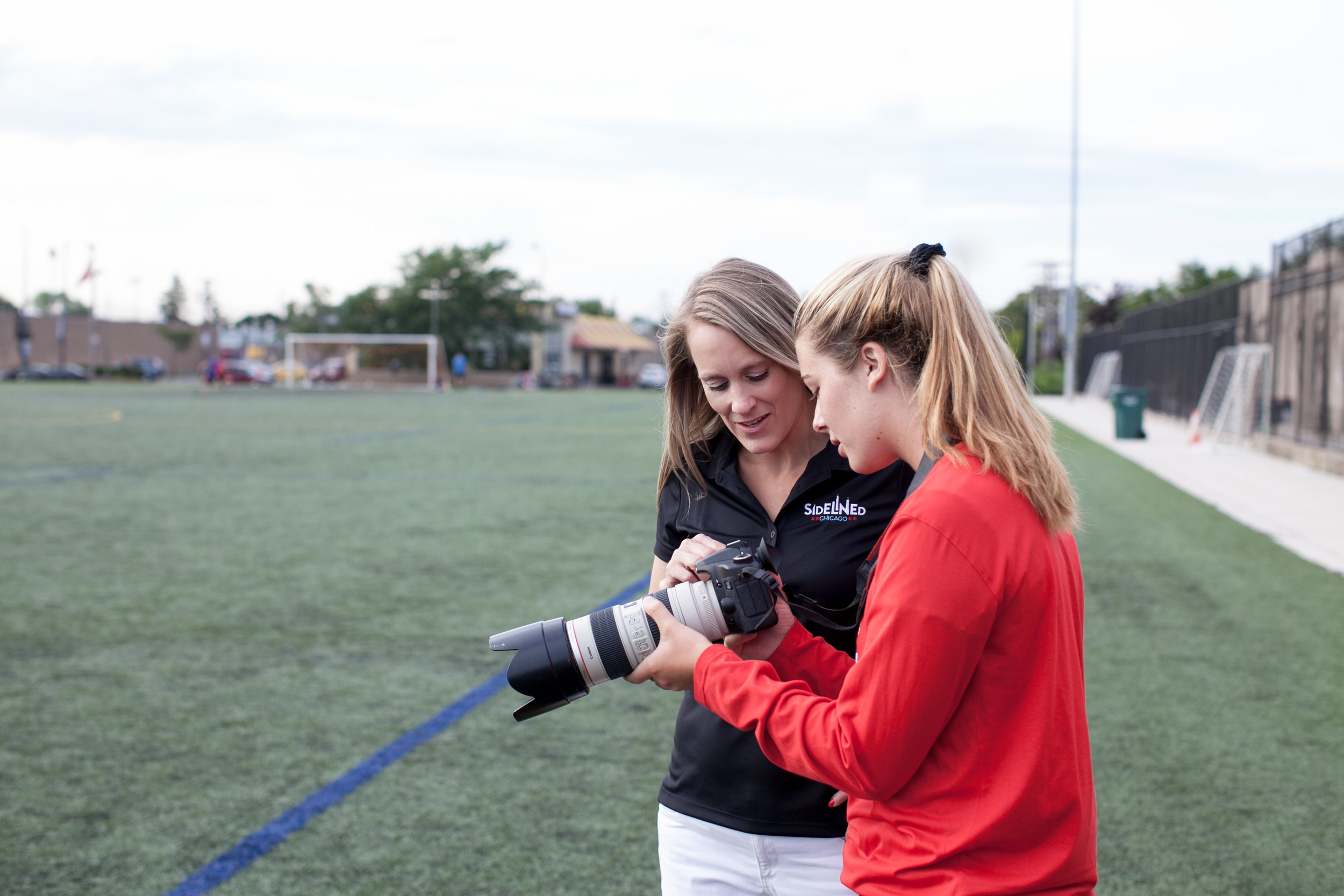 Sports photography is significant in the sports world as teams reach their markets through visual media. With the growth of social media, sports highlights and images have the potential to go viral, spreading across Facebook, Instagram, and Twitter, being shared hundreds of thousands of times, and viewed by millions of fans across the globe. The most exciting plays of the game, the toughest shots, the slickest moves, and the most impressive catches are all captured by a stunning picture, or an amazing angle on a replay. Sports photography is incredibly important to the branding and marketing of sports teams. Sports photography can also be analytic, used by coaches and players alike to critique the team's play and improve their skills. If the arts interest you, or perhaps you are inspired by an amazing picture or an impressive highlight, maybe sports photography is for you.
Sports journalism is also a critical part to sports media. The top providers of sports journalism are news stations such as ESPN, Sports Illustrated, NBC, ABC, WGN, and FOX. Every big news station has developed a sports news program within their station because of the mass craze for sports media. The sports market is highly profitable. The sports market in North America alone was worth $60.5 billion in 2014. It is expected to reach $73.5 billion by 2019. Sports media rights are projected to go from $14.6B in 2014 to $20.6B by 2019. With the continual growth of the sports media market, the need for sports journalists is increasing. Writers who love sports analytics should strongly consider Sports Journalism. Sports journalists cover analysis of statistics, game play, skill, coaching, management, and more. With the market ever increasing, now is the perfect time for writers to partake in sports journalism.
It's no secret that good coaches know their game and know it well. However, there are special and specific traits that make up a good coach. Good coaches are patient, remain positive through negative situations, and can maintain a controlled composure. After all, coaches are, and should be, the most influential leader on a team. Coaches carry their teams through the emotional highs and lows of a season. The very best coaches inspire their athletes to believe in themselves and are great "life" teachers. Every sport is bigger than Xs and Os -- it goes beyond the court. Coaches assume immense responsibility and carry that responsibility with pride. All in all, great coaches are good communicators, natural leaders, and motivators who are open-minded, passionate, and love what they do. Coaching is a high-caliber job for a high-caliber individual. If you identify with the traits of what it takes to be a coach, it is something you should strongly consider.
Athletic training is a field filled with many sidelined athletes. Perhaps when you were injured your school athletic trainer was the first to help? Maybe you're interested in the medical field? Athletic trainers (ATs) are highly qualified, multi-skilled health care professionals who collaborate with physicians to provide preventative services, emergency care, clinical diagnosis, therapeutic intervention and rehabilitation of injuries and medical conditions. Have you ever wondered how you can be a part of the medical field and help care for other athletes; all while still being a part of the sports world? Athletic training is great way to do all that! Experience the thrill of being at the games while helping others.